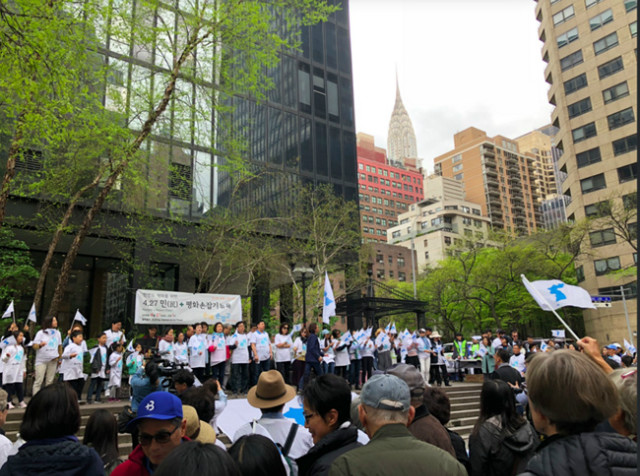 촘스키 교수님을 비롯, 노벨 평화상 수상자, 제자도 참여해준 연대 소식을 전합니다.
조그만 정성이지만 한분, 한분의 글, 뜻에 관심과 사랑 부탁드립니다.
3.1 독립운동 100주년이 되는 2019년 아직도 우린 우리 민족의 독립과 평화를 위해 국제 사회에 마치 "求乞(구걸)"을 해야 하는 현실, 더 열심히 해야 하겠습니다.
프란시스 교황님 말씀처럼 4.27 판문점 평화 선언의 의미는 우리 민족만 잘 살겠다는 것이 아닌, 강자, 강대국이 약자, 약소국을 지배하는 세상이 아닌 단합, 대화, 형제같은 인간애와 동정심으로 연대를 할 수 있는 미래가 가능한 세상,
그런 또 다른 세계를 만들 수 있는가 희망을 만들기 위함이라고 봅니다.
4.27 판문점 평화 선언은 바로 꿈과 희망을 담은 선언입니다.
시몬천 드림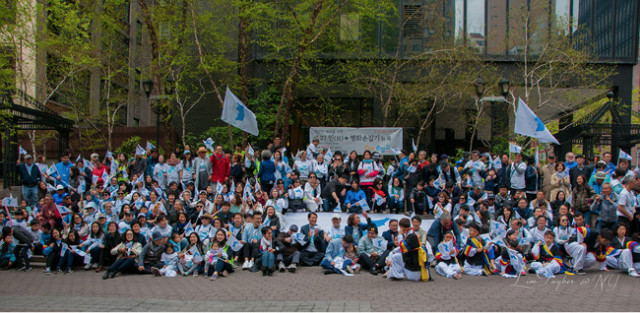 이상 뉴욕 맨해튼 행사
Is fraternal solidarity possible for peace in Korea?
May this celebration offer hope to all that a future based on unity, dialogue and fraternal solidarity is indeed possible...Through patient and persistent efforts, the pursuit of harmony and concord can overcome division and confrontation.
Pope Friancis, First Anniversary of Panmunjeom Declaration of Peace https://www.vaticannews.va/en/pope/news/2019-04/pope-francis-unity-korea-anniversary.html
We are such stuff
As dreams are made on
Shakespeare, The Tempest
Fraternal Solidarity:
A Dream for Peace on the Korean Peninsula
Dear friend--an update. A week ago I asked if you'd be willing to join our small act of solidarity, Virtual Hand in Hand, DMZ Peace Human Chain, on April 27--the one year anniversary of the historic Panmonjeom Declaration for Peace. It's a great honor and pleasure to share inspiring solidarity messages that I've received (please see below).
•On April 27, hundreds of thousands of Koreans created a "human chain" along the 500-kilometer Demilitarized Zone dividing South and North Korea to celebrate the first anniversary of the April 27 Panmunjom Declaration.
•Citizens of 20 countries represented among 30,000 participating foreigners from abroad and residing in South Korea
•According to the latest poll by KBS, more than 71% of Koreans support the April 27 Panmunjeom Declaration.
•The DMZ peace chain put human faces on the current US-DPRK nuclear talks--a magnificent contrast to the Washington-dominated media circus, neocon pundits and military-industrial, and even U.S. Congress, in whose mind 80 million Koreans often don't seem to exist.
•Korean people's effort will endure and their causes will eventually triumph!
The Korea Update's Virtual Hand in Hand
In Solidarity with #DMZPeaceChain
The Hankyoreh, 4/27/2019 [in Korean]. "The Human Chain of Peace Continues the Long History of the Korean Peoples' Struggle for Independence and Justice...May the Chain be Unbroken,"
•American intellectuals' solidarity messages for 4.27 DMZ Peace Human Chain
•The path to peace and reconciliation...the effort cannot be allowed to fail, or even to be delayed. Chomsky
•Nobel Peace Laureate, Mairead Maguire Peace it is your country make peace happen. Happen! http://www.hani.co.kr/arti/international/international_general/891732.html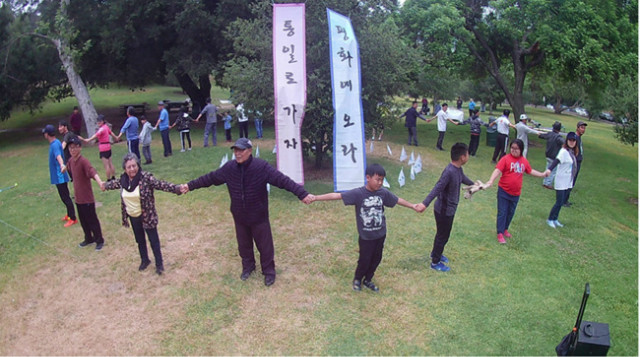 로스앤젤레스 행사
Participants of the Virtual Hand in Hand and their solidarity messages
1. Mairead Maguire
NOBEL Peace Laureate
Dear north and South Korea people
I have visited both north and south
And seen Korean people's passion
For peace and a peace treaty
Keep believing and building peace
And don't let outsiders destroy your
Peace it is your country make peace
Happen!
2. Aiyoung Choi
Chair, Board of Directors
Women Cross DMZ
I was born in Hamheung, Korea, and am 79 years young, now living in the United States, working and praying day and night for peace in my homeland. It is my fervent hope that the historic peace process launched by Pres. Moon and Chairman Kim last spring will lead to a Peace Agreement that will finally replace the Armistice Agreement and end the continued suffering of 80 million Korean people living in a divided country and an un-ended 70 year-old war. On April 27 of this year, I will join hands with thousands of people in New York City -- and around the world -- to call for Peace in Korea!
3. Noam Chomsky
Institute Professor & Professor of Linguistics emeritus, MIT
The April 27 Panmunjeom Declaration was indeed a historic event. The path to peace and reconciliation since then has been rocky, but the effort cannot be allowed to fail, or even to be delayed. It is too important. The promise is too great to be lost, the costs of failure are too grim to contemplate. It is imperative for the people of Korea, and of the world, to devote themselves to ensuring the success of the initiatives that are now haltingly underway.
4. Joseph Essertier
Coordinator, Japan for a World Beyond War
"The stakes were high during 2017 when government officials repeatedly threatened mass murder on a grand scale, when it seemed that a first-ever tragedy called a "nuclear war" or even a global "nuclear winter" could actually happen. Thanks to the tireless efforts of many millions of Koreans and mainly grassroots organizations around the world, such a tragedy was averted. I am sorry to you who live on the Korean Peninsula or who have loved ones there that the situation is once again becoming dangerous due to lack of cooperation on the part of the US government. With the history of US violence in mind, I will be joining hands with you in spirit on the 27th, along with other peace-loving people in Nagoya, Japan. Thank you for your non-violent approach and your tenacious dedication to peace!"
https://worldbeyondwar.org/dear-americans-no-bases-necessary-in-okinawa-and-south-korea/,
https://worldbeyondwar.org/remembering-the-suffering-and-contributions-of-korean-women/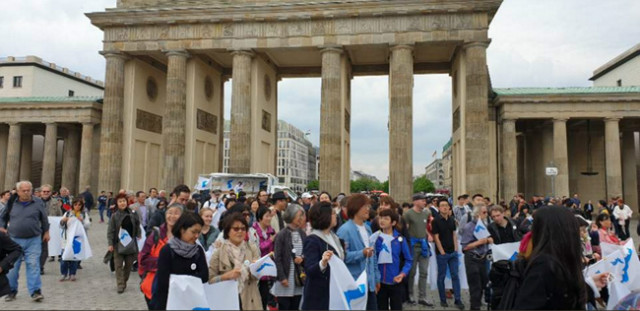 베를린 행사
5. Ramsay Liem
Emeritus Professor, Boston College and
the Channing and Popai Liem Education Foundation
The Human Chain of peace continues the long history of the Korean peoples' struggle for independence and justice - from the 1919 April Uprising, to the guerilla warfare against Japanese colonialists, to the 4/3 Jeju rebellion, to the May 1st student outpouring, to the cries of Chun Tae-il, to the sacrifices in Gwangju, to the mass demonstrations for democracy, to the demands for "Sunshine"mirrored in the Candlelight Revolution, and now this human chain for peace. Korea's greatest gift to the world will not be its corporate empires nor its K-Pop, but the example of the indomitable will of everyday people to chart their own future and make their own justice. May the chain be unbroken.
http://www.mufilms.org/films/memory-of-forgotten-war/#.XMCaMdkc3VU,
https://www.counterpunch.org/2018/02/09/south-korea-straying-off-the-leash/
6. John Kim
Member, Veterans For Peace (US)
It is time for the Korean people to achieve their true independence, peace and reconciliation on the Korean Peninsula. I served in South Korea for one year in the 1970s as part of the US Army. I trained near the DMZ. It is time for the US to stop its interference and control in South Korea. 70 years of division and suffering are enough! Let the Korean people determine their own future!
My spirit will be with you on April 27.
In peace & solidarity,
7. Robert Keilbach
Secretary - Veterans For Peace - NYC Chapter 034
8. Charles Knight
Senior Fellow, Center for International Policy, @defensealt,
9. Dr. Keith Meyer and family
Quilcene, Wa
CodePink
US Boat to Gaza
Dear friends in Korea,
Please know that my entire family stands in solidarity for peace and justice for all of Korea. We join with the rest of the world in a virtual human chain, sending our prayers to your people, your homes, and your country for the unification of Korea and the healing peace process.
In solidarity for Peace,
Kit Kittredge
10. Martha Spiess, Chair, Peace Action Maine, Maine, US
11. Michael Wong, MSW
Outreach Coordinator,
Veterans For Peace,
Chapter 69, San Francisco
As a former soldier in the United States Army and a peace activist since the Viet Nam war, I fully support the Korean peoples' desire for peace between North and South. Unfortunately it is my country, the United States, which is holding up this process, for which I apologize. On April 27, I extend my best wishes to the Korean DMZ Human Chain Movement. and I urge my government to move quickly toward a final peace with North Korea.
12. Colonel Ann Wright
US Army Retired and US diplomat who resigned in 2003 in opposition to the US war on Iraq
Veterans for Peace and Women Cross DMZ
http://www.voicesofconscience.com/articles.php
13. Cade S (17), my student in U.S. Government and Politics, USA, after a 1-minute lecture on the Korean War: "Let the Families Unite. End the Korean War," USA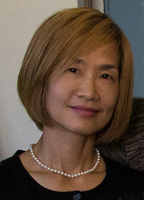 시몬 천
노스웨스턴대 국제정치학 강사