Spring Peace Picnic: 500,000 human chains for #KoreaPeaceNow
역사적인 판문점 남북 정상 회담, 판문점 선언 1주기가 다가옵니다.
100년만에 찾아온 한반도 영구 평화 정착의 기회입니다.
3.1 독립운동 정신을 계승, 이제 우리 힘, 촛불혁명의 힘과 용기로 "판문점 평화 정신"을 만듭시다.
거대한 미국 시민 평화 단체들과 유럽, 전 세계 시민 평화 단체들과 함께 21세기 최대 평화 운동을 만듭시다.
우리 자신을 위해서가 아닙니다.
후손들이 오늘의 우리들을 보며 힘과 용기를 얻을 것입니다.
전 세계 약소국가들이 힘과 용기를 얻을 것입니다.
4월 27일은 8천만 한민족의 평화 소풍의 날로 기록합시다.
4월 27일은 전 세계 민중의 평화 소풍의 날로 기록합시다.
산자여 따르라. --시몬천 드림

"We came into the world like brother and brother,
And now let's go hand in hand, not one before another."
William Shakespeare
Dear Esteemed Friend--an update on #KoreaPeaceNow!
It's been nearly a year since the historic inter-Korean summit in Panmunjeom. This week, I'm bringing you a selection of pieces about the legacies of the historic summit that are in the making: namely, growing people's solidarity for #KoreaPeaceNow. Let us deny our rights either to be disappointed, cynical, fearful or give up: "Rome wasn't built in a day."
#KoreaPeaceNow of the people, by the people and for the people!
Update:
•U.S. President Donald Trump and South Korean President Moon Jae-in will meet in Washington on April 10.
•A unified Korean team will participate in the 2020 Tokyo Olympics.
1. 4/27 The world's biggest spring "peace" picnic to the DMZ (Global)!
Let's go to the DMZ and have a picnic on a spring day when flowers bloom. Join us with a spring peace picnic with your beloved in your own community, schools, churches, sns, facebook, etc...!
Creating the "Panmunjeom Peace Spirit" and people's legacy for peace!: 500,000-human chain for peace along the 500 km of DMZ (Demilitarized Zone) to commemorate the historic inter-Korean summit, the Panmunjeom Declaration, Korean unity and peace in Northeast Asia. http://www.dmzpeacechain.com/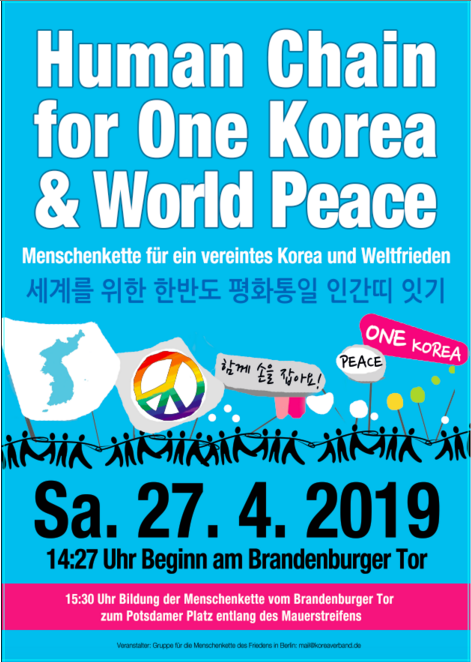 2. 2019 Korea Advocacy Days. Korea Peace Network. JNC TV (subtitle in Korean). Check out and support these amazing and inspirational American and Korean-American citizen diplomats in action with members of U.S. Congress! 코리아 피스 네트워크, 한반도 평화 위한 미연방의회 로비활동 펼쳐. Photo credit: Jean Chung (One Korea) https://www.youtube.com/watch?v=9MN2sA7rg3Y&feature=youtu.be
https://www.peaceaction.org/korea-peace-network/
News Roh (in Korean), http://newsroh.com/bbs/board.php?bo_table=m0604&wr_id=7713
Colleen Moore. Beyond Politics: Pursuing Peace on the Korean Peninsula
The most realistic approach is to pursue a step-by-step approach that ultimately works toward the long-term goal of denuclearization. Eliminating nuclear weapons on the Korean peninsula will not take 1 or 2 grandiose steps. The international community needs to take steps to build trust — that begins with the U.S. declaring a formal end to the Korean War.
https://beyondthebomb.org/beyond-politics-pursuing-peace-on-the-korean-peninsula/
3. Reuniting Korea's Families. After 68 years of separation, an elderly South Korean mother has the chance to reunite with her North Korean son 68년만의 북한의 아들과 해후한 남한의 어머니
When the Korean War broke out in 1950, Lee Geum-Sum fled south with her young family. On the way, she had to stop to feed her baby daughter and became separated from her husband and son. The conflict tore the family apart - they were divided by a border they were forbidden to cross. For 68 years, Mrs Lee heard nothing from her husband and son. She built a new life with her daughter in South Korea's capital, Seoul, but never forgot the family she lost. Then, at 91 years of age, Mrs Lee received a letter from the Red Cross, saying her son was still alive and in North Korea.
..."I walked and walked, without food or sleep, trying to find you and your father," she tells him.
What happens when a family meets again after so many years apart?
https://twitter.com/AJ101East/status/1108910455190220805
4. Humanitarian Groups Say Sanctions Impede Aid to North Koreans 대북 경제 제제는 국제 인권 단체 활동 방해
https://www.voanews.com/a/humanitarian-groups-say-sanctions-impede-aid-to-north-koreans/4848401.html
5. 55 civil society organizations in Korea: Open Letter to the UN Security Council Members. The peace process on the Korean Peninsula must go on 55 한국 시민 단체 유엔안보이사회에 한반도 평화 호소 서한
We are 55 civil society organizations that act for peace on the Korean Peninsula. Since the last summit in Vietnam between the DPRK and the U.S. ended without result, concerns have been raised that the deadlock between the two countries will be prolonged. We wish to make it clear that there must be no further action to aggravate the situation. We appeal to the Members of the UN Security Council, the Security Council Committee established pursuant to resolution 1718, and the international community to ensure that the peace process on the Korean Peninsula is firmly sustained.
http://kpolicy.org/open-letter-to-the-un-security-councilthe-peace-process-must-go-on/?
6. Ramon Pacheco Pardo. North Korea's Denuclearization: Is There a Role for Europe 유럽 국가들 한반도 평화 프로세스에 동참해야
What role can #Europe play in the denuclearisation of #NorthKorea once/if an agreement is reached? I argue that EU, France & UK can offer technical expertise, funding & diplomatic support. Read about it here:
https://twitter.com/rpachecopardo/status/1110774421717831681
7. Simone Chun. 80 million Koreans should decide the fate of their country. Interview with Loud and Clear 시몬천, 8천만 한민족이 한국의 미래, 운명 결정해야
South Korea wants the US to give more flexibility to President Moon, specifically President Moon's vision, plan, for greater inter-Korean economic exchange and cooperation. In return, South Korea says… that if the US is not willing to provide lifting of economic sanctions, the US should support South Korea's role in inter-Korean economic exchange and cooperation. So, South Korea is in a difficult position. I think there are still many analysts in Korea that believe that [there should be a summit between] South Korea, North Korea and the US," Chun continued, also adding that denuclearization will take "enormous cooperation." https://sputniknews.com/analysis/201903161073287640-dprk-attempting-pressure-US-negotiations-latest-threats/ https://www.spreaker.com/user/radiosputnik/north-korea-withdraws-from-diplomatic-mi
8. Zoom in Korea. South Korea Spent $4.8 billion in 2015 for US troops in Korea
South Korea spent more than 5.4563 trillion won (4.8 billion USD) to support U.S. troops stationed in Korea in 2015, according to the Korea Central Daily. The combined cost of direct and indirect support for US Forces in Korea amounts to 15 percent of South Korea's defense budget and, the Korea Central Daily noted, is greater than Japan's contribution for US forces stationed in Japan.
http://www.zoominkorea.org/korea-news-roundup-march-22-2019/

9. UN approves five sanctions exemptions for humanitarian aid to North Korea
The five new exemptions bring the total number of humanitarian approvals by the UN Security Council 1718 Sanctions Committee to 18 so far this year, and are the second exemptions for FSHS and PUI, who both previously received approvals for work back in January. https://www.nknews.org/2019/03/un-approves-five-sanctions-exemptions-for-humanitarian-aid-to-north-korea/
10. Humanitarian groups claim that sanctions impede aid to North Koreans. Children at risk
Roy Wadia, spokesperson for the United Nations Population Fund (UNFPA) at the Asia and Pacific Regional Office in Bangkok, said 1.4 million people in North Korea, including 190,000 kindergarten children and 85,000 acutely malnourished children, did not receive food assistance last year due to the shortage of funds.
"If humanitarian programs were to be forced to further scale back or draw down completely, the impact would be devastating on the lives of millions of vulnerable people, jeopardizing the access and results gained overtime," said Wadia. https://www.voanews.com/a/humanitarian-groups-say-sanctions-impede-aid-to-north-koreans/4848401.html
11. Bruce Cumings, After Hanoi, remember risks of not engaging North Korea
Many analysts are pointing to National Security Advisor John Bolton as the culprit in scuttling an agreement in Hanoi, and if indeed he has Trump's ear we are in for trouble. In his memoir, Bolton takes credit (if that this the right word) for demolishing the 1994 freeze during the first Bush administration, and he's on record as saying that his preferred policy toward North Korea is that there be no North—an end to the regime. Of course, it is anybody's guess whether Trump will continue engagement with Kim, or return to a strategy of "fire and fury." If it is the latter, he will join a long line of presidents who have been on the brink of war with North Korea (not just Barack Obama, who Trump has said came close several times).
https://thebulletin.org/2019/03/after-hanoi-remember-the-risks-of-not-engaging-north-korea/#.XIZ1UcFhz60.twitter
"Let's go hand in hand"
for #KoreaPeaceNow and World Peace:
4/27 The world's biggest spring "peace" picnic to the DMZ (Global)!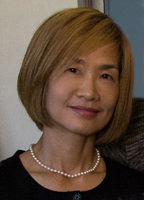 시몬 천
노스웨스턴대 국제정치학 강사
글로벌웹진 NEWSROH 칼럼 '열린 기자'
http://newsroh.com/bbs/board.php?bo_table=reporter