Imagining the New World
Actually, the world has been full of people imagining the New World.
In a way, all of us are, in our own way. Hundred people, hundred new world.
Hundred noises.
In the time of social distancing, noise sounds wonderful.
Noise should be with us all the time.
Noise should be expected and embraced; yes, it does take much much patience to find peace with noises. But remember absolute power corrupts absolutely.
The Fresh Insight is we should create a coherent narrative out of the collective noises.
That coherent narrative should reflect the prevailing mood and conditions of the time, and, at the same time, the promise of more advanced state of human life/conditions.
The mythical founder of Korea, a long long time ago, imagined the new world where people are nice to each other to make the world a better place.
Well, we could ask many questions on this concept.
Could ask the founder, what do you mean by nice/better? Under what conditions?
A couple of thousand years later, this gentleman in the Middle East imagined the new world where people loved each other.
If possible?
Why love? Is it the final new world? The only possible answer? Is the world too cynical for any other ways. Logic, reasoning, fairness, justice, equality ain't going to work in his time? How about our time, now?
Throughout history, the bold new world was enslaving your neighbors, as many as possible. Feudalism, colonialism, capitalism, nationalism, enlightenment, etc., etc., etc.; somebody's bold new world at some point in history. Survival of the fittest, they say.
The collective narrative is that we had to go through this; a part of growing pain.
At the personal level, everyone understands and agrees with the growing pain.
Ah, except Donny, the clueless. But it is ok, somebody has to be clueless.
Why not him?
We all go through the growing pain, and it appears so does the history.
Many people are saying it is different this time. Yes, it is; although it had been said repeatedly before, and it is going to continue to be said in the future.
Still, it is exciting to imagine the New World; greatly appreciative, thankful, fortunate to live in this time when positive change is definitely in the air. My brilliant people around me are surely going to ask me what do you mean by positive and change?
I'll just refer to nice, better, and love. Didn't somebody say to be nice to your elders?
Kiddings aside, it is the right time to clearly visualize the New World. This time we have more information, better productivity, more horizontal world, more people involved.
We can start with physical, mental, material infrastructures, and bring those infrastructures together to create nicer, better, loving world. Sounding like somebody I know. I know.
We're bringing science and technology with growing pain.
Noises are always expected.
Let's enjoy and get excited about the possibility and get specific, very specific.
Blue print without clear specifics are no use. This new world, we have go to beyond nice, better, and love. This time we have to create the conditions, infrastructures, institutions, foundations, human pillars of our communities, wise/solid/decent/courageous pillars.
Well, I'll start, tomorrow.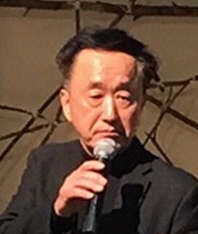 글로벌웹진 NEWSROH 칼럼 '이명동의 세계인 한국인'
http://newsroh.com/bbs/board.php?bo_table=cleemdong