<!--[if !supportEmptyParas]--> <!--[endif]-->
There are times in history when the rumbling background noise becomes unavoidable reality with clear focus. We've been hearing about inequality, fairness, concentration of wealth in the hands of a few people, the system rigged for people with money and access to power. These grievances have been gathering momentum, and Bernie Sanders is riding the momentum, right now. Bernie's been Bernie for over the last 40 years. He's been saying more or less the same thing, and the progressive wing of Democratic Party has finally caught onto him, also, many independents.
<!--[if !supportEmptyParas]--> <!--[endif]-->
He is more of an activist than a national stage politician. But he is creating a national level excitement by drawing huge number of audiences in his campaign speeches. It started with a huge crowd in the thousands at the Waterfront Park in Burlington, Vermont. 5/26/15. 6/20, Denver, Colorado, estimated 5000 people. 7/1, Madison, Wisconsin, 10,000 people. 7/3, Council Bluff, Iowa, 2500 people; the largest number of people among all candidates in Iowa. 7/6, Portland, Maine, a city of 66,000, 8-9,000. 7/19, Phoenix, Arizona, a conservative state, 11,000. 7/19, Houston and Dallas, Texas, another conservative state, 5,000 and 8,000 respectively. His poll numbers are rising and his followers are very active/his activists are energized.
<!--[if !supportEmptyParas]--> <!--[endif]-->
His followers describe him as "authentic, he means what he says, and he speaks the truth." The rumbling noises of economic inequality, income disparity, jobs, and rigged system have come to the forefront of this cycle of the Presidential election. Bernie is shaping the issues of the election.
<!--[if !supportEmptyParas]--> <!--[endif]-->
Because he is so focused on his issues, he appears weak on some other pressing issues of the time. He was heckled by the activists of the Black Lives Matter movement, and he didn't handle the situation well. Just like Bernie Sanders' followers have become the real force, so is the activists of the Black Lives Matter. It is palpable that the racial dynamic is changing for sure and for the better. Overpopulated prison system, community policing, education, jobs, endemic structural discrimination, and poverty have become more urgent and pressing issues, now.
<!--[if !supportEmptyParas]--> <!--[endif]-->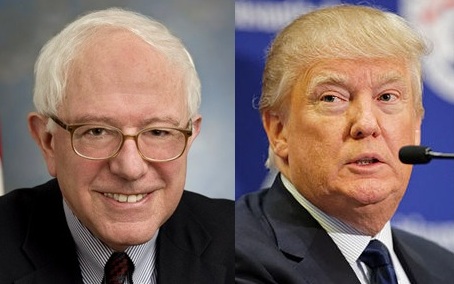 Bernie Sanders and Donald Trump
Donald Trump is at the other end of the spectrum, interesting, nonetheless, if not respectable. As he said, "I'm who I am." He could be authentic in his own way. As many political pundits observed that he is the creation of Republican party, the media, and the general public, slowly but surely. It is no accident that the cartoonish show business character is the center of the Republican party. What Trump is saying is the gossip some of the people were thinking and wanting to say but too polite to say it. In the end, gossip and show business don't belong in the serious business of governing the country and the world. His gossip relieves some anger and discontent, for instance, "Rick Perry should be forced to take an I.Q. test before being allowed to enter the GOP debate." He does say what is politically incorrect but has some element of truth that satisfies a certain itch. But gossip is a gossip, and should stay there.
<!--[if !supportEmptyParas]--> <!--[endif]-->
Sanders' followers and the people who support Trump at the time are two different blocks of people but they may, at least some of them may, share a certain sentiment of frustration with political leaders and the business as usual way of disappointing decision making processes. Then, there is the Black Lives Matter with a lot of passion, energy, and organization. It is, also slow but sure response to the horrendous horror of the original sin.
<!--[if !supportEmptyParas]--> <!--[endif]-->
We can see many deep historical currents and waves at the moment with interesting characters representing them. The U.S.A., now, is a very fascinating place to be.
<!--[if !supportEmptyParas]--> <!--[endif]-->
<!--[if !supportEmptyParas]--> <!--[endif]-->