A statement from a professor of political science in Nevada.
That statement, somehow, made possible to connect many dots.
Having conversation with a few different groups of people last few months.
Since midterm election is approaching, the conversations more frequently included
the upcoming election.
The range of understanding, comprehension wide, very wide.
From literally know nothing let alone understanding or comprehending,
to sound information and clear eyed decision making.
One interesting anecdote.
A man, "I have many information, much of them contradicting, and I'm
not sure which is right." He cited two people he liked and respected but with different views, very different views.
I, "What is your vision of yourself, community, country, and the world."
The man, "I don't have one. I'm not that advanced. I have been busy making a living."
At least, he was trying, asking questions.
Another who played golf last 8 days straight.
I. "Make sure you vote and vote democrats."
8days, "You're so sure but don't you have to listen to the other side, also."
I, "I did the enough listening for both of us, just vote D all the way."
Another wonderful golfer and genuinely nice man.
"I'm a Republican."
I, "Why."
The genuine nice man. "Small government; big government is wasteful."
I, "Agreed, but this midterm you got to vote democrat. Later, you can go back to R."
Another good golfer who played high school baseball.
"When is the voting day? Do we have to be registered vote?"
I, "Yes. Are you a citizen?"
Baseball player,"yes, for many years, but I never voted."
I, "It's about time you start. This time really important you and I, all of us to vote."
These conversations ended rather quickly but with smile and good vibe intact.
But bringing these men to vote seems monumental.
"Nevada is a low turnout state."
No wonder each party is going for their base and the Country is becoming
polarized, the campaign more on raw emotion than clearly formed policies.
The conversation is not easy but necessary. We can all agree, I think.
David Lee, "Uncle, you don't do small talks."
I, "No." Rather bluntly.
David, "But you need small talks to be able to have big talks."
I, "Ah, David, you're right."
David, I have been trying. Not sure I'm getting better.
We need personal bonding relationship—- whatever form it takes —- before taking on
difficult conversations. Individual by individual. Tall order? Small talk before big.
David, you're a genius with good heart. Good mentor, one by one.
Vote D, make sure, this time.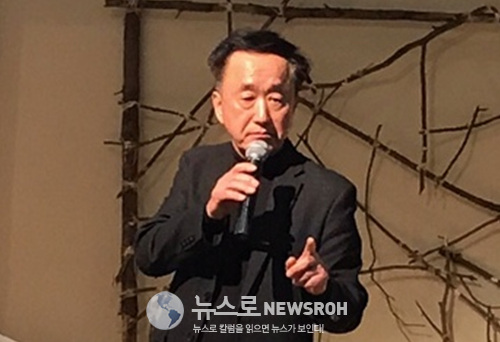 글로벌웹진 NEWSROH '이명동의 세계인한국인'