The U.S.A. totally lost the last four years.
We've been watching cheap, silly, demeaning reality show which was very harmful to the country, and the world facing huge issues. Some, existential.
In this fast moving, and competitive world, a country standing still or, worse, going backwards is devastating in many ways.
The reality show had a huge following- the whole world, in fact- because there are many people who has been hurting for a long time without any meaningful help from either parties/the government. And because of the many greedy, selfish, short sighted segments of our society. The clueless kind with loud voice, and money.
Then, there is the kind of politician who is no compromise partisan, winning at all cost, whatever it takes, shameless liars; morality, decency, integrity are for the wimps.
Politics and leadership are getting what my narrow mind wants for myself, and the groups that support me. Not what is good for the country as a whole.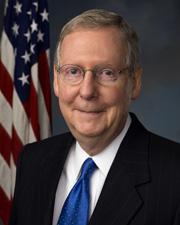 Mitch McConnell
That kind of politician is Mitch McConnell.
This is the individual who made Donald/the reality show possible.
"This is the world you brought us, Mitch."
There is no moral, vision, passion, honor, pride, principles.
It is more like a preprogrammed robot, single minded pursuit of his provincial pride.
His single most important vision was making Obama an one term president; whatever it takes. It paralyzed the government; nothing got done after the first two years. The country didn't matter. Obama had to be gone after one term.
We're getting rid of the mental case and the reality show.
But as long as "thanks a lot, Mitch' remains the majority leader, the future of the country is worrisome.
Many different opinions and confusion out there created/developed by many different reasons of deep roots and exploited/exaggerated by the likes of Donald and Mitch.
The Biden administration has to succeed, at least given a chance, for the country; not just for democrats. Biden-Harris is going to try to bring the country together and out of the nightmare and into the better future.
The country needs 50-50 senate to be able to move and get things done.
We can't let 'one term president at all cost, Mitch' decide the agenda.
Make sure to vote; spread the word; let everybody in Georgia vote; take hold of our future. Vote Warnock, and Ossoff.
Have a vision. Solid, positive, long term vision for all of us.
글로벌웹진 NEWSROH '이명동의 세계인한국인'
http://newsroh.com/bbs/board.php?bo_table=cleemdong