How beauteous mankind is!
O brave new world
That has such people in't! William Shakespeare
May all those who possess the power to wage war have the mastery of reason to maintain peace. Willy Brandt, Nobel Peace Lecture, 1971.
Dear esteemed friend--an update.
Toward a Peaceful, Unified and People's Northeast Asian Community!
1. Famed `comfort women' dies in Adelaide. Ms Ruff-O'Herne was one of the so-called "comfort women" who were repeatedly raped and beaten by occupying Japanese soldiers after the invasion of Indonesia. She famously broke decades of silence in 1992 and told her story after being moved by the plight of Korean War rape victims as they made appeals for justice. In 1994 she published a memoir which documented her struggles and then in 2007 Ms Ruff-O'Herne went to Washington to give testimony before a US congressional panel. I had been in a camp for two years when, in 1944, high-ranking Japanese officers arrived at the camp. The order was given. All single girls from 17 years up had to line up in the compound. We were very anxious about this. We thought it was just another inspection. The officers walked towards us, and a selection process began. They paced up and down the line, eying us up and down, looking at our figures and our legs, lifting our chins. They selected ten, pretty girls. I was one of the ten. We were told to come forward and pack a small bag. The first things I put in my bag was my prayer book, my rosary beads and my Bible. I thought somehow these would keep me strong.
https://7news.com.au/lifestyle/famed-comfort-woman-dies-in-adelaide-c-409365
2. Global Citizen's Statement Calling for the Resumption of the Aichi Triennale 2019 "Lack-of-Freedom-of-Expression Exhibit: Part II". [In English, Korean and Japanese] via Joseph Essertier. The "Statue of a Girl of Peace," the main target of ultranationalists, is not only a tribute to the victims of the largest organized sexual violence of the 20th century but also a work of reflection on the long years of survivors' lives and includes a hope for world of peace and the end of all forms of sexual violence. It is truly regrettable that "human rights" and "freedom of expression" are trampled like this. We value the "Aichi Triennale 2019," the honor of Japanese society, and the protection of human rights. Works banned from the exhibition are now blocked by barriers. The organizers of the event should remove the barriers and resume the exhibition as soon as possible. We the signatories will remain actively involved until the end in terms of watching the way this situation is handled.
https://docs.google.com/forms/d/e/1FAIpQLSfQ7dW-wERBhhtdQicwqGGwQl5yqK86Q1-s4WxODAi9chi2NA/viewform
3. Joseph Essertier. Japanese and Koreans Stand Up for Freedom of Expression, Peace Memorialization of the `Comfort women' Atrocity, and Women's Rights in Nagoya, Japan. WorldBeyondWar.org
The huge gap in understanding of the history of Japanese colonialism in Korea stems mainly from the poor atrocity education in Japan. For the rare Americans who know that Our Government and its agents (i.e., soldiers) committed atrocities in the Philippines, Korea, Vietnam, and East Timor (let alone Central America, the Middle East, etc.) such ignorance in Japan will not be surprising. Unlike many or most Germans who widely recognize their country's crimes in World War II, Americans and Japanese are often in for a shock when they talk to people from countries who suffered from our/their countries' past imperialistic violence. What is considered common, basic history—what might be taught in a high school history class in many countries—is viewed as the propaganda of the extreme Left in the US or as "masochistic history" in Japan. Just as a Japanese patriot is not supposed to admit that 100,000 people were slaughtered over the course of several weeks in Nanjing, China, no American could be considered a true patriot if he admitted that Our slaughtering a similar number of people in Hiroshima in a matter of minutes was unnecessary. Such is the effect of a decade of indoctrination in public schools.
__EXPRESSION__-peace-memorialization-of-the-comfort-woman-atrocity-and-womens-rights-in-nagoya-japan/" target="_blank">https://worldbeyondwar.org/japanese-and-koreans-stand-up-for-freedom-of-expression-peace-memorialization-of-the-comfort-woman-atrocity-and-womens-rights-in-nagoya-japan/
4. Penny Bailey. The Centenary of Korea's Sam-il (March First) Independence Movement: Remembering Japanese Art Critic Yanagi Soetsu's Solidarity with Colonized Koreans. The Asia-Pacific Journal Japan Focus.
The Seoul protest incited another 1,500 pro-independence demonstrations attended by over a million Koreans, in all but seven of the country's 218 administrative districts. This mass mobilization was fuelled predominantly by word of mouth, since Japanese censorship prevented the communication of news or ideas not supported by the state… In addition to highlighting for the international community the injustices of Japan's expansionism, the movement was central in bolstering solidarity domestically, and consolidating the nationalist movement both in Korea and abroad in its quest for liberation. In the cultural realm, with the help of anti-colonial campaigners such as Yanagi, it also indirectly helped to secure the preservation of some of Korea's important cultural properties. Today, 1 March is commemorated as the national holiday Samil-chŏl in South Korea, and every year the reading of the Declaration of Independence is re-enacted in T'apkol Park.58 Ten large murals cast in bronze encircling the participants serve not only as symbolic reminders of the resistance to Japanese rule and the brutal suppression of the movement, but also the heroic efforts of the many individuals who mobilized their families and their communities in the national and transnational struggle for Korean independence." https://apjjf.org/2019/16/Bailey.htm
5. Japanese and North Korean students build friendship on Pyongyang exchange program. The Japan Times Yukiya Kubo, a 25-year-old senior student at the Tokyo University of Foreign Studies, responded, "If Japan resolves the (issues of the) past and builds a friendship with North Korea, it will become a foothold for peace in all of East Asia." "While there are clashes of views coming from different stances, students from both Japan and North Korea have been trying to become friends by overcoming barriers," said Yukiko Tsutsui, the secretary-general of the nongovernmental organization. "Repeated exchanges are the first step toward building peace," she added.
https://www.japantimes.co.jp/news/2019/08/23/national/japanese-north-korean-students-exchange/?hootPostID=0603379b67aea831f4fa87d4f873e29a#.XV-UrpMzai4
6. Japan must show `sincere, consistent contrition' toward Koreas: US scholar. I think President Moon did the right thing in his speech August 15 (National Liberation Day) by taking more conciliatory tone and offering to have talks (with Japan). http://www.koreaherald.com/view.php?ud=20190823000534
7. Harry J. Kazianis, John Dale Grover, Adriana Nazarko, and Dong Geon Lim. A Japan-south Korea Dispute Hundreds of Years in the Making. The National Interest. Although both Japan and South Korea have taken actions that have escalated tensions, it is important to note that the Japanese government took the initial step in bringing the conflict into the realm of national security. And, though Tokyo has denied a link between the South Korean court rulings and Japan's decision to scrap Seoul's place in its white list, there is little evidence to support the Japanese government's claims that South Korea doesn't properly manage its strategic materials. While South Korea's choice not to renew the GSOMIA may be motivated by tension with Japan, any actions by the United States to resolve conflict in the region must be informed by the context in which the decisions of its allies were made.
https://nationalinterest.org/blog/korea-watch/japan-south-korea-dispute-hundreds-years-making-76241
8. South Korea looks to `minimise issues' in Japan trade row. BBC. https://www.bbc.com/news/av/business-49423336/south-korea-looks-to-minimise-issues-in-japan-trade-row?SThisFB&fbclid=IwAR1iB7EmH4iGLrwiLQn1JmFzR_m9q55iA2N_5CH6-0q4pCBa4eUEQmUAr7Q
9. August 31, Tokyo, a rally condemning Prime Minister Abe. More than 10,000 Japanese intellectuals to signed "Is South Korea Our Enemy?" "Prime Minister Abe, please stop wrecking the friendship between the Japanese people and South Korean people, and embroiling the people of the two countries in a fight." 78 Japanese intellectuals, "Is South Korea Our Enemy?" More than 8300 Japanese signed the petition,
10. Daniel R. DePetris. Moon jae-in's Dream: Korean Unification by 2045. The National Interest.
Moon Jae-in understands Korean unity is a big lift. He probably understands that accomplishing such a feat by 2045 is incredibly unrealistic. But for Moon, none of this matters. What's important is to keep the idea alive so the next generation of Korean leaders can turn the dream into a fact of life. If Moon succeeds in doing that, all of the recent denunciations and insults that have thrown in his way may be worth it.
https://nationalinterest.org/blog/korea-watch/moon-jae-ins-dream-korean-unification-2045-73751
11. Celebrating the 74th National Liberation Day. JNC TV [in Korean]. https://www.youtube.com/watch?v=Mh70p72x8uM&feature=youtu.be&fbclid=IwAR0dWo86cXYig3wWU_CNVaVjDwClZpQaNo1_jocm_aBHZf2Cb2IeSA_qRd8
12. Dan Jasper. Reuniting families is a critical step in diplomacy with North Korea. The Hill.
In order to truly transform the U.S.-North Korea relationship, we will need to untangle issues of individual security from issues of arms control and international norms. Reuniting families (living and deceased), then, offers a viable way to help heal the wounds of war while, at the same time, cultivating the environment necessary to effectively discuss high level concerns of the U.S. and North Korea.
https://thehill.com/blogs/congress-blog/foreign-policy/455595-reuniting-families-is-a-critical-step-in-diplomacy-with
13. Simone Chun. Sea of Tears: The Tragedies of Families Split by the Korean War. Common Dreams
This past July marked the 65th anniversary of the armistice that halted the Korean War. In addition to leaving nearly 5 million dead, injured, or missing, this bloody conflict forcibly separated nearly 10 million Korean families on either side of the 38th parallel.For her and tens of thousands like her, every day counts. It is absolutely essential that we work to prioritize the regularization of North-South family reunions and the establishment of permanent venues in both North and South Korea for this purpose.
https://www.commondreams.org/views/2018/08/17/sea-tears-tragedy-families-split-korean-war
14. PETITION! International Declaration of Korea Peace 코리아 국제평화 선언
미국은 동맹을 앞세워 남북협력을 가로막지 말라! 어떠한 동맹도 민족에 우선할 수 없다.
개성공단과 금강산 관광, 남북 철도·도로 연결을 당장 시작하라!
Peace is the universal human rights and the basic principle of human life. Peace means living together in harmony. The silence of the tomb should not be considered as peace. In other words, peace can never be achieved by bullying a small nation into silence by a super power. The fundamental problem of the peace in the Korean peninsula is the long hostile policy of the United States toward North Korea. It is already common sense in the international society that North Korea's nuclear weapon development is the result of its persistent and aggressive policy of sanctions and blockades affecting all political, economic and military areas in North Korea.
The solution is the normalization of North Korea-United States relations. Denuclearization should be obtained as the result of normalization process. [In English, Korean and Japanese]
https://docs.google.com/forms/d/1mldQD23uvh1UgSrGrzMUROJjfhGK2JdToaeQuVK9dYA/viewform?edit_requested=true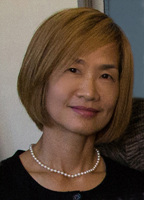 시몬 천
노스웨스턴대 국제정치학 강사